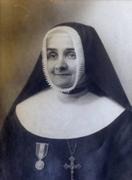 1880: Born in Hilta on the fourteenth of September, daughter of Saadallah Hoyek, brother of the Founder.
1900: Entered the convent of the Maronite Sisters of the Holy Family.
1901: Took her first vows on the thirty-first of December.
1911: Took her perpetual vows on the twelfth of November.
1919: Was elected General Vicar.
1927: Was elected Superior General for the period of thirty-four years.
1936: Brought the Body of the Founder from Bkerké to the crypt of the Mother House in Ebrine.
1964: Rested in peace on the sixth of February.
Open minded, sweet hearted, Josephine Hoyek, distinguised by a clear vision and a disinterested soul, governed the Congregation during thirty-four years, succeeding Mother Stephanie Kardouche. She founded seventy-three institutions with the Congregation not as yet having reached its seventh decade. She established between hospitals and schools 8 houses in Syria, making sure that each house had its own oratory.
She focused on religious and academic education of the sisters, fostered arts and particularly music. Our Lady of Lebanon Church in Achrafieh, along with its magnificent mural frescos and the crypt of the Mother House, where rests the Founder her uncle since the eight of May 1936, were the greatest achievements that she accomplished with her brother artist Youssef Hoyek's contribution.
She was decorated twice, first time by the President of the Republic Alfred Nakkache and then by President Sheikh Béchara El-Khoury.